Phil Zuckerman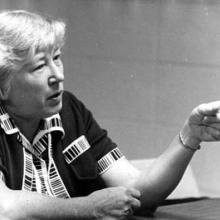 For someone who was once dubbed "the most hated woman in America," Madalyn Murray O'Hair is getting a lot of love in this city she once called home.
Ten years after her mysterious disappearance in August 1995, the legacy of activist Madalyn Murray O'Hair still influences atheists in America today. She was known for her role in the landmark 1963 Supreme Court decision in Murray vs. Curlett, which, combined with Abington vs. Schempp, ended prayer in public schools across the U.S. and turned her into the self- described "most hated woman in America." She is depicted here in a Religion News Service file photo from the 1970s.
New Jersey-based American Atheists, the group O'Hair founded here in 1963 to further the separation of church and state, is marking its 50th anniversary with a three-day convention that's expected to draw more than 900 people in its former hometown.