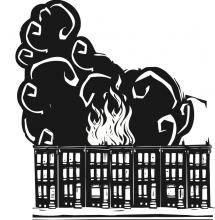 When the high priest's guard came to arrest Jesus and execute him under an unjust oppressive legal system on a false charge, Peter wasn't having it.
The police tried to apprehend Jesus and met Peter's sword coming at their heads. He cut off the high priest's servant's ear in the process. Peter wasn't marching. He wasn't rallying. He wasn't chanting or trying persuade the establishment to review their policies. He wasn't even looting, taking his anger out on inanimate objects. He was trying to protect his friend by violently acting out directly towards those who had been tasked to carry out the injustice.
Peter didn't try to reason with the men, but with his actions, Peter loudly and clearly said, "F*** the police!"