permit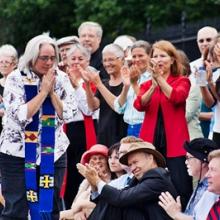 It didn't take long — after news broke this afternoon that President Obama had indefinitely kyboshed the climate-killer Keystone XL pipeline — for my phone to ring.
"Hi Rose, I'm calling from White House on behalf of President Obama," the voice on the other end of the line said. "We wanted to makes sure you'd seen the president's executive order postponing the permitting of the pipeline until another environmental impact report can be done, especially focusing on sensitive environmental issues in Nebraska.
"And we want to thank you for your good work on this issue. We're just reaching out to let you know that the President hears you and we hope you'll continue to help us focus on the really critical issues that are facing us right now."
This afternoon President Obama made an official announcement on the Keystone XL Pipeline that so many of you have been working on these last several months.
In a statement released by the White House this afternoon, President Obama said in part:
Because this permit decision could affect the health and safety of the American people as well as the environment, and because a number of concerns have been raised through a public process, we should take the time to ensure that all questions are properly addressed and all the potential impacts are properly understood.