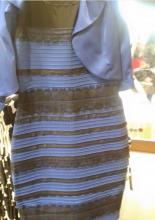 If you thought I was going to be one of those bloggers who was above using the recent viral #dressgate as blog fodder, you would be wrong. In fact, as soon as the dress started trending, I knew I would be writing about it because it so perfectly encapsulates my message.
By now you have seen the dress, and gone through the stages of denial, bewilderment, and acceptance of how your perception of color differs from the next person. You may have even read The Science of Why No One Agrees on the Color of This Dress. But you may not yet have had a faith writer exegete the profound spiritual significance of the dress. Do not fear, I am here to deliver. Below is a simple Christian Guide to #Dressgate:
A. If you see blue/black: you are a solid Christian. Like a rock, you are steadfast and unchanging. Because rocks are often black.
B. If you see white/gold: we all know only true Christians can see white/gold, as gold signifies the color which paves the streets of heaven, and white, the color of angel's robes.
C. If you see BOTH colors: you are one of those progressive, liberal, hippie types who is so politically correct you can't even exclude a color set of a dress.
D. If you can only see one set of colors, but you're so convinced you can trick your brain into seeing the other that you will spend an entire span of family dinner twitching your face, blinking and winking furiously, twisting your head at ridiculous angles at the photo, then you are just my husband.
I'm C, of course. The freaky dress does crazy mental magic on my brain, switching colors on me spontaneously, forcing me to existentially question every life decision I have ever made with my faulty, cognitive synapses.
And I'm kidding. Please, don't be sending me hate mail about the true Christian thing, I'm kidding.