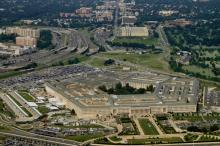 Our class studying terrorism found itself under terrorist attack.
You might expect these military men would be first in line calling for the use of force. You would be wrong. Veterans of the first Iraq war, they, like Gen. Colin Powell, warned that starting a war would be easy, but accomplishing anything good by the use of force in the region would be hard. Military attacks would "rearrange the rubble" and incite retribution and further cycles of violence. They urged other responses — political engagement, diplomacy, [and] legal and financial instruments.
As advisors to the U.S. Catholic Bishops, we also urged using "just peace" methods. Pope — now Saint — John Paul II urged President Bush not to invade Iraq but to pursue a just peace. The U.S. invasion would de-stabilize the entire region, cause worse bloodshed, and do more harm than good.
Today, as then, the military and religious leaders agree. We ought to notice.