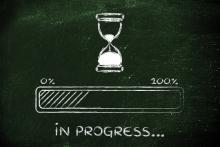 While driving to work the other day, I wound up stopped behind this car with a sign taped to the back window that said: "STUDENT DRIVER / PLEASE BE PATIENT / THANK YOU."
It made me smile.
I remember being a 16-year-old behind the wheel of our family's red station wagon, learning to drive with one of those handmade signs taped to the back window. I remember my dad sitting in the passenger seat and being very, very quiet the first time I merged onto an interstate with the semis whizzing past.
Maybe that's why when I see a car with a student driver, I don't get upset if they take forever to decide it's finally safe to make that left-hand turn. Or if they're entering the highway at 35 mph and I have to slow down and accommodate them.
Been there, remember that.