path to prosperity
Faith leaders and poverty experts Wednesday called the new House GOP budget proposal "immoral" and "irresponsible."
The budget released the previous day by Rep. Paul Ryan, R-Wis., included deep cuts to programs that would unfairly burden the poor, middle-income families and senior citizens, said the Rev. Thomas Kelly, who participated in a phone conference with the media.
"Using the deficit as an excuse to pursue a radical agenda that punishes the poor is simply dishonest and immoral," said Kelly, a Catholic priest and Ryan's constituent, on the call hosted by the Center for American Progress.
The Republican blueprint calls for cuts to Medicaid and other programs such as the Supplemental Nutrition Assistance Program -- also known as SNAP, or food stamps -- and would turn them into block grant programs, putting states in charge of tailoring them to local needs.
The cuts also aim to reduce the nation's deficit by $4.4 trillion during the next 10 years.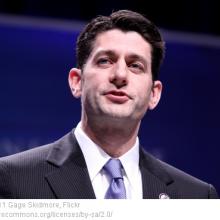 This morning, Congressman Paul Ryan (R- WI), chairman of the House Budget Committee, released a proposal for an FY 2013 budget. Similar to last year, the plan places an undue burden of deficit reduction on low-income people. Effective anti-poverty programs are targeted for cuts while a tax plan that could significantly reduce tax burdens for top income earners.
According to analysis from Bread for the World:
This FY 2013 budget proposal would have a devastating impact on programs like the Special Supplemental Nutrition Program for Women, Infants, and Children (WIC), the Supplemental Nutrition Assistance Program (SNAP, formerly food stamps), low-income tax credits, and would make international food aid and poverty-focused foreign assistance vulnerable to cuts that would undermine our national security.

The proposed budget would cut SNAP by turning it into a block grant program. This would prevent the program from responding when there is an increase in need. Once the money from the block grant is spent, there cannot be an increase in funds. Currently, SNAP automatically increases with need.