parliament'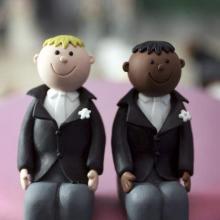 CANTERBURY, England — The British government on Thursday launched a 12-week consultation that is widely expected to lead to the legalization of same-sex marriage in England and Wales, despite strong opposition from Catholics and some Anglicans.
"Should two people who care deeply for each other, who love each other and who want to spend the rest of their lives together be allowed to marry?" Home Secretary Theresa May wrote in The Times of London.
"That is the essential question behind the debate over the government'splans to extend civil marriage to same-sex couples."
The coalition government led by Prime Minister David Cameron and his deputy, Nick Clegg, has made it clear that it wants to see a same-sex marriage law before the next general election in 2015. It is also supported by the New Labour opposition leader, Ed Miliband.
The consultation will also include an option of retaining the status quo and that has met with the approval of senior church figures, as well as a number of Conservative lawmakers.