Parkinson's Disease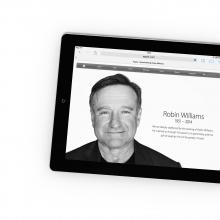 It feels awkward and even a bit inappropriate to be talking about 'celebrity news' when so much is going on around the world: Iraq, refugees in Syria, children stranded at borders, Michael Brown's death and Ferguson, Ebola, Ukraine, and the list tragically goes on.
But then again, it feels appropriate because it's another reminder of the fragility of our humanity.
As has saturated the news, Robin Williams passed away this week. His life ended way too short at the young age of 63 – apparently because of suicide. While this was news to me, Robin had been struggling with intense depression – especially as of late — and was recently diagnosed with Parkinson's Disease.
To be honest, I don't get caught up too much on celebrity happenings mainly because there's not much genuine connection. I don't really know them personally. Make sense? Robin Williams' death – on the other hand – just felt like a painful punch in the gut. Perhaps, it's because Mork and Mindy (Nano Nano) was the first TV show I watched (along with Buck Rodgers) after immigrating to the United States. I deeply resonated with Mork – this 'alien' or 'foreigner' from another land trying to fit in. Perhaps, it's because so many of the characters he played in countless movies influenced me on some level as it did so many others.