papal elections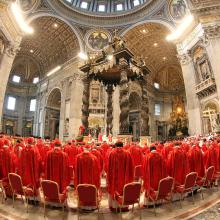 VATICAN CITY — The doors of the Sistine Chapel closed behind the cardinals on Tuesday, marking the official start of the conclave that will elect the successor to Pope Benedict XVI.
The 115 cardinal-electors walked in procession into the Sistine Chapel, singing hymns and invoking the Holy Spirit, before filing under Michelangelo's "Last Judgment" and taking a solemn oath of secrecy on everything that will happen during the conclave.
At the end of the oath-taking ceremony, the master of papal ceremonies, the Rev. Guido Marini, ordered the "extra omnes" (Latin for "everybody out").
Cardinals will be sequestered inside a Vatican residence until a candidate receives the two-thirds majority needed for election to the papacy.