papal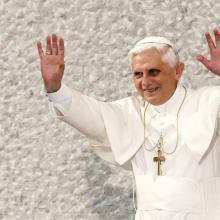 Centuries ago, of course, the love lives of the popes — and cardinals and various powerful prelates — became a source of constant fascination and scandal. In these days of great anxiety in the church about the role of gays and gay rights, leaking stories about papal crushes can also be useful for signaling that a pope is straight, and not just straight but also virile and seriously attractive to women, an attraction he naturally must renounce.
But it's still a balancing act — trying to advertise a pontiff's shared humanity with the flock while not encouraging prurient speculation.
You won't find many Catholic churches named after Pope Benedict IX.
Benedict IX squandered the papacy's moral and financial riches in bordellos and banquet halls. His violence and debauchery "shocked even the Romans," said philosopher Bertrand Russell, which is kind of like being busted for lewdness in Las Vegas. He was a puppet pope, installed by his powerful family at a time when rival clans ruled Rome. The young man seemed uninterested in religious life, rushing through ordination only after his election to the Throne of St. Peter in 1032.
St. Peter Damian called Benedict IX a "demon from hell in the disguise of a priest." The Catholic Encyclopedia labels him a "disgrace to the chair of St. Peter." He was the first Pope Benedict to resign, selling the papacy for gold in order to marry. He later tried to reclaim the holy office and served three stints as pope between 1032 and 1048.
Nearly a millennium later, the pious and bookish Pope Benedict XVI seems completely contrary to his notorious namesake. Even if his papacy has stumbled at times, by all accounts the current Benedict has led a chaste life devoted to serving his church.