otherness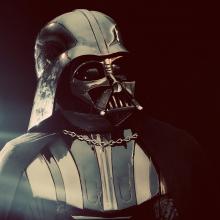 "Now I've gone completely over to the dark side," I laughed as I unpacked an Apple iMac desktop computer and set my last Dell Windows PC to the side.
Such is the teasing that goes on among computer users — teasing that occasionally turns to irate bristling and strident claims of supremacy.
But becoming "all Apple" (iPhone, iPad, MacBook, iMac) isn't the "dark side," is it? It's the "other side." It's a new product, not a corrupt soul.
Product decisions aren't expressions of ultimate value. They're like selling my automobiles and moving to a walking culture in Manhattan, putting aside suits, and starting my own company. It's the "other side," not the "dark side" or the "light side."
I won't be using my new iMac to steal money from people. That would be "dark side" behavior. I won't engage in identity theft, patent trolling, luring people into danger, slandering people with whom I disagree, threatening children, starting phony charities. Those would be "dark side" activities.
In recent years, we have seen serious confusion between "other side" and "dark side." Led by politicians, ideologues and religious zealots, we have been encouraged to view opponents as evil, unpatriotic, a menace worthy of destruction. The opposition wasn't content to disagree; it also wanted also to dehumanize and demolish.