Opinioni
First, the name "Francesco" leapfrogged to No. 1 on the list of the most popular baby names in Italy.
Then, the city of Rome reported a tourism boom, mostly from Latin America.
Now, there's word Roman Catholic Church attendance is climbing throughout Italy.
Blame it on "the Francis effect."
Italy's Center for Studies on New Religions reported Sunday that around half of the 250 priests it surveyed reported a significant rise in church attendance since Cardinal Jorge Mario Bergoglio became Pope Francis in March.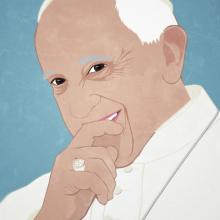 Are the media pulling their punches when it comes to Pope Francis?
Whether it's because he carries his own bags or cold-calls troubled Catholics who write to him, or because he so clearly loves interacting with crowds or drives a beat-up Renault around the Vatican, it's hard to tell. But at some point, much of the world's media fell for the new pope.
Now an increasing number of Vatican insiders are asking whether the largely positive view of Francis affects the way the media cover the Holy See.