operation streamline protest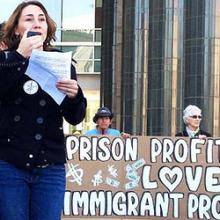 On Oct. 11, I spent the morning under the front wheel of a bus filled with shackled immigrants. I joined this action with other community members to stop the two Homeland Security buses (operated by private contractor Wackenhut) from making it to the Operation Streamline proceedings at the Tucson federal courthouse. The buses were held and the front gate of the courthouse blocked for more than four hours, and Operation Streamline was ultimately cancelled for the day.
As my arms were locked around the wheels of the bus, I felt baptized into a deeper spirit of solidarity than I have ever known. Every one of the more than 70 immigrants on board those buses was shackled around their wrists and ankles. They were treated as if they were the biggest threats imaginable to our national security. During the action, the immigrants on the buses lifted their chains up to be seen through the darkened windows, and some of them put their palms together in front of their faces in a gesture of prayer and recognition of the meaning of the action. Other protestors at the scene had made signs in Spanish to communicate with the immigrants, with messages of: "Your struggle is our struggle;" "We are here defending your rights;" "You are not alone;" "We are with you, keep fighting;" "To desire a better life is not a crime."