opera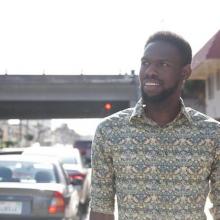 Three years ago, when Anthony Mordechai Tzvi Russell took the stage at a Jewish vaudeville celebration and said he was going to sing in Yiddish, people laughed.
As a 6-foot-plus African-American with one golden earring, he just didn't look like the typical Jew fluent in the language of the pre-World War II shtetl.
Then he opened his mouth. Out came a rich bass voice in a longing lament to the isolated villages and tiny homes left behind in places like Poland and Russia.
Think Fiddler on the Roof's "Anatevka" sung by a guy who looks more like Chris Rock than Zero Mostel.
Two years after the Sept. 11 attacks, Timothy O'Leary sat in an audience of 2,000 New Yorkers listening to the Brooklyn Philharmonic perform a concert about terrorism — the 1985 murder of an American tourist by members of the Palestine Liberation Front on a Mediterranean cruise ship. It was one of the most powerful moments he'd ever had in a theater.
Terrorism stories are rarely happy stories, and yet the path O'Leary has taken — from bringing the controversial opera "The Death of Klinghoffer" to St. Louis last year to a Sept. 11 memorial concert on Sept. 9 — ends with a hopeful, permanent pairing of faith and the arts in St. Louis.