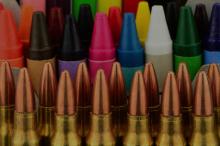 In the end, we didn't choose a house in the sprawling metropolis that is Waterloo. We took a home in a small rural town just outside the city. It reminds me of rural Pennsylvania: quaint, quiet, with lots of room for the kids to run and play. We can walk to school, the library, and the downtown shops. Kids run our streets playing ball hockey, riding bikes — all unattended by adults.
My friends in this town groan about the fact that due to the new practice of locking school doors, they can't walk their kids all the way into the building anymore.
"I miss being able to help Olivia take off her coat, hang up her bag, and get her ready for class," Kirsten tells me.
I nod respectfully, but I've never gotten to know what they're now missing.
I want to be smart about my relief. I know there are certainly many ways my children can get hurt, even here. Still, I'm so grateful that my friends don't know what I'm missing from life down in the States. I'm so glad that when I drop Noelle and Nathan off at the school doors each morning, I leave un-haunted.