online networking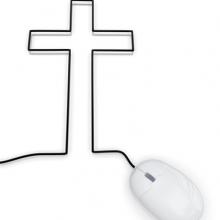 A tech writer's obituary for PCWorld's print magazine — part tongue-in-cheek, part nostalgia riff — reminded me that I once devoured that magazine, now kaput.
It was an early lens into the fascinating world of personal computing. Its ads and articles stoked dreams of power and speed.
I soon became part of PCWorld's dilemma. I dropped the print mag and began seeking tech news on the Internet. It was faster and fresher, had clickable links to other sites, great art, and brevity. PCWorld itself went online.
Much of my world has switched to the Internet. I do most of my banking and bill paying online, shop online, order lunch online, learn choir music online, teach classes online, use email and text messaging extensively, and read the news online.
Nothing unusual in any of that. Such web-centered behavior has become the new normal. Any enterprise that isn't considering ways to move its operations online is losing its future.
In my world, more and more churches are going web. Electronic newsletters replace mailed paper. Clergy use email to communicate, as do staff and volunteers. Tweets, Facebook posts, e-blasts, and text messages carry word of emergencies. Constituents make donations online.
There's more. Classes are moving online, as are interviews with job candidates and opinion surveys. Some congregations are experimenting with worship online and small groups. Every Sunday morning, some 600,000 people a minute access Bible verses online using one app.