nuance
Why some of us love Jesus and don't like Paul.
Tumult in Egypt reminds me how complicated the world can be, especially for a culture like our own that is shaped by good guy vs. bad guy dramas.
Who are the "good guys" in Cairo? Is the ousted president a good guy for being democratically elected or a bad guy for pursuing isolationist Islamic policies? Is the military saving Egypt or preserving privileges?
It isn't just the inherent complexity of any human situation. It's the complexity of societies that have rules and histories quite unlike our own.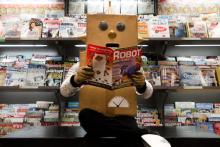 As a progressive Christian in my mid-20s, it'd be safe to bet I might be a fan of Donald Miller. And I am. Miller's Blue Like Jazz and Searching For God Knows What are among the books that have significantly affected my faith journey.
And, like many others in my demographic, I met the news of an adaptation of Blue Like Jazz with both hope and apprehension. Like Miller himself, "at first, I didn't understand how it could be a movie. I couldn't see it on a screen."
My own anxieties about a big-screen adaptation fell into two categories. First Jazz is, for all intents and purposes, a memoir. And memoirs — or the biopics they often become onscreen — are, in my opinion, rarely great films. They are usually little more than a path to the Oscars for actors who are pining after an ego-boost (but I guess that's another story).
What saves Blue Like Jazz, thankfully, is that it is a memoir with a difference. It isn't a rose-tinted, romanticized account of some historical or celebrated figure. It is the memoir of someone who is very much like me — just a little bit funnier. That's where the appeal comes from and I'd expect that's what will make Blue Like Jazz (the film) a success both here and abroad.