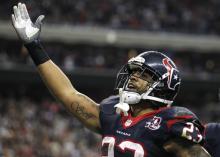 Earlier this month, NFL star Arian Foster, a running back for the Houston Texans, sent ripples through the world of professional football when he came out as a nonbeliever in the pages of ESPN Magazine.
Though he is not exactly an atheist — Foster told reporter Tim Keown he shuns that label and believes in "nothing" — Foster offered a counternarrative to the overwhelmingly Christian world of professional football and the college football system that feeds it.
"Everybody always says the same thing: You have to have faith," Foster, who is 28, says in the magazine.
While there are certainly other football players with nontraditional religious beliefs, Foster is the only active professional football player who has been open about his nonbelief.