nonchristians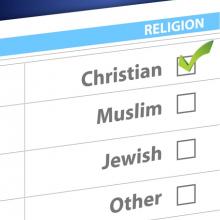 There is an old Christian hymn that has the lyrics "They'll know we are Christians by our love." It was written in the late 60s and was inspired by the Bible verse John 13:35, where Jesus says, "By this everyone will know that you are my disciples, if you love one another." (NIV)
Really? We're supposed to be able to tell the difference between Christians and non-Christians? And the difference is love?!
In reality, it's not nearly that simple, and the fact is, there's no visible difference.
If you were to go to the grocery store, a football game, the gym, a school, or your work, there would be no obvious way of identifying — through actions — who is a Christian and who isn't, and we should be careful not to judge.
Some of the kindest, nicest, authentic, and wonderful people I know don't believe in Jesus. Contrarily, there are some horrible, mean, and downright disgusting Christians.