non-Christian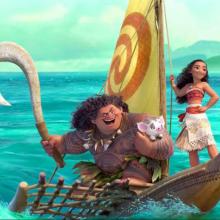 With its new full-length, animated feature Moana, Disney Studios expands the ethnic and religious diversity in its heroines, in this case with a spirited Polynesian girl, played by Auli'i Cravalho, who is a native Hawaiian. The film is the latest in the lucrative princess franchise that began in 1937, with Snow White and the Seven Dwarfs, and was enhanced over the decades with films like Sleeping Beauty and Cinderella.
Moana finished No. 1 at the box for the third weekend in a row, earning $145 million since opening over the Thanksgiving weekend.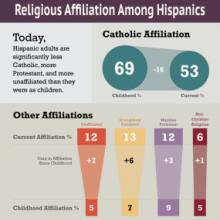 The number of Hispanic-Americans who say they adhere to no religion is growing and now rivals the number of Hispanic evangelicals, a new study has found.
The share of Hispanics living in the U.S. who say they are atheist, agnostic, or have no religious affiliation has reached 12 percent, according to the 2013 Hispanic Values Survey conducted by the Public Religion Research Institute. That is double the rate reported in 1990 by the American Religious Identification Survey.
Researchers say Hispanic "nones" are now statistically equal to the number of U.S. Hispanic evangelical Protestants — 13 percent — and warn of a religious divide in the Hispanic community that will be felt for decades to come.