Nines Conference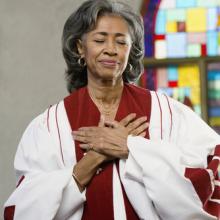 Last week, a controversy erupted over Twitter when it came to light that a prominent evangelical conference with 110 speakers only had four women on stage.
Journalist Jonathan Merritt, did a quick informal study and discovered that out of 34 prominent evangelical conferences, only 19 percent of speakers at plenary sessions were women.
This is a problem.
As a white male evangelical and a black female evangelical who spend a lot of time speaking at conferences, events, and college campuses, we know from experience this is a problem.
Conference spaces have become one of the primary discipleship spaces for evangelicals. These are the spaces where evangelicals go to learn all that it means to be a follower of Jesus.