nice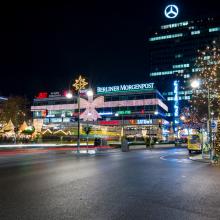 On Dec. 19 a truck drove into a Christmas market in Berlin, Germany, killing at least nine people and injuring more, in what law enforcement officials suspect is a terrorist attack, reports the Guardian. The Christmas market was set up in Breitscheidplatz, one of Berlin's most-frequented shopping areas.
A police spokesperson announced that the incident may have caused a gas leak. The Christmas market has been evacuated and an information point has been established for people in search of missing loved ones.
Can Tim Tebow do no wrong?
Michael Butterworth of Bowling Green State University has turned his attention to sports media coverage of Tebow, an evangelical Christian and New York Jets quarterback. The author of a forthcoming article in the journal of the National Communication Association, Butterworth talked about how Tebow coverage seldom treads beyond a "nice guy" image to delve into his faith.
Some answers have been edited for length and clarity.