Newark NJ
Amid calls for a Vatican investigation, Newark Archbishop John J. Myers is facing fierce criticism for his handling of a priest who attended youth retreats and heard confessions from minors in defiance of a court-ordered lifetime ban on ministry to children.
At St. Mary's Catholic Church in Colts Neck, where the Rev. Michael Fugee had been spending time with a youth group, angry parishioners said they were never told about Fugee's background, and they questioned Myers' defense of the priest, the subject of a lengthy story in The Star-Ledger.
"It's complete craziness that the church can let this happen," said John Santulli, 38, a father of two at St. Mary's. "I'm a softball coach, and I need a background check just to get on the field. Every single person I spoke to today said, 'Oh my God. I didn't know about this.' It's incomprehensible."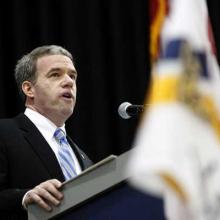 Islamic leaders say they are shocked that a review by New Jersey's state attorney general into the New York Police Department's secret surveillance operation targeting Muslim businesses and mosques in New Jersey found the NYPD did nothing wrong.
The three-month probe, ordered by Attorney General Jeffrey Chiesa, concluded there was no evidence to show the NYPD's activities in the state violated New Jersey's civil or criminal laws.
"Based on what we saw, their conduct was permissible," said one of the officials involved with the review who was not at liberty to discuss the report publicly. "There was no evidence of illegal wiretaps or search and seizures. We're not seeing any violations of law."