new season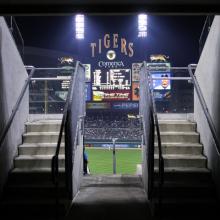 Oh my, did I need Opening Day this year. Opening Day, of course, is the first day of the baseball season. For baseball fans, it is a time when hope comes alive again, after a long winter of waiting.
On Opening Day, every team starts with a clean slate, all the win/loss records are 0-0 , and, as they say, "hope springs eternal." There is talk in every baseball town and among all baseball fans of how we really could win this year if only this or that goes right, if our players could live up to their real potential, if we could finally "gel" as a team, and if all the things we can't control could go well for us and not so well for the other teams. "Have you seen that new rookie?" And "that trade we just made could make all the difference now!" Everybody is a believer on opening day.
The Boston Red Sox need to throw off the long-lasting "curse" of the Bambino, which still lurks around Fenway Park despite their recent successes. The hated New York Yankees still stand in the way of another World Series ring. The Cubs fans in Chicago, with a record that would cause mere mortals to despair, have actually learned to nurse an almost eschatological hope of victory that might require the second coming of Christ to fulfill — but nonetheless, you hear chatter all over the north side of the Windy City about how it could happen "this year." Just think of what finally going all the way "this year" could mean to my suffering hometown of Detroit, which we could do if Miguel Cabrera stays healthy. And, just so you know, the starting pitching rotations of both the Washington Nationals (the adopted team of everyone who lives in D.C.) and the Tigers are simply the best in baseball. But, I may be a bit biased.
Opening Day always comes, and I believe not accidentally, during the end of the holy season of Lent (marked by waiting in disciplined reflection, sacrifice, and even suffering), and always close to Easter and Passover — when hope comes alive again.