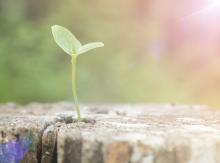 It was five years ago now. I had recently finished a few week stay in the ICU, more than two months in the hospital, and more than one conversation between my parents and doctors about whether I would pull through. Still, I had made it, and after several months of regular home nurse visits, fentanyl patches, dilaudid pills, and 12 hours a day on an IV for liquid and nutrition, I was stable but still far from recovered.
The Saturday before Easter was sunny and unseasonably but appropriately warm. My mother and I took a walk outside, over a mile, the furthest I had gone in nearly five months.
"Wouldn't it be poetic," I asked, "If suddenly this whole illness, everything that went wrong in the hospital, all made sense tomorrow on Easter?"
"Hunny," my mom responded kindly, "I think that's a lot of pressure to put on the pastor. Don't you?"
The next day was seasonably and appropriately repetitious. I heard nothing new. The same Easter story that had been read for centuries on centuries was read again. I received no specialized message from the divine about my own pain and struggle. That morning, I realized that might be the point.
Jesus came to make resurrection mundane.