New Conversation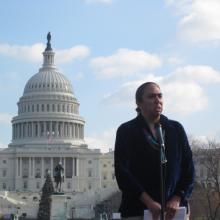 Reconciliation is never easy, which is why it doesn't happen very often. Reconciliation is not something that can be checked off of a list. It is not a single event encapsulated in a moment of time. Reconciliation begins with a conversation and ends with a relationship restored.
It was the morning of Dec. 19, and I was standing in front of the U.S. Capitol building in Washington D.C. I had reserved that space months in advance so I could host a public reading of H.R. 3326, the 2010 Department of Defense Appropriations Act. I did this because page 45 of this 67-page document contained an "apology to native peoples of the United States." In three years this apology had not been announced, publicized, or read by either the White House or the 111th Congress.
If I had to translate her words into Navajo, I would say "ádin." Ádin means nothing, none, zero.
I couldn't believe my ears. I was visiting Iowa in the first week of January during an election year. Presidential candidates were crisscrossing the state — kissing babies, shaking hands, and pleading for the vote of everyone they met. Campaign events were taking place in high school gymnasiums, community centers, and local businesses throughout the state. Many of the people I met had personal stories of meeting one of the candidates, shaking their hands, and talking about their issues. There are 99 counties in the state of Iowa, and a few of the candidates were taking the time to stop and hold campaign events in each and every one of them. But there I was, just a day before the caucuses, standing in the community center and tribal offices of the Meskwaki Settlement near Tama, Iowa, with the tribe's executive director telling me that not a single presidential candidate had held a campaign event in their community.
I shouldn't have been surprised. After all I live on the Navajo Reservation. Our reserve is nearly 26,000 square miles with about 300,000 enrolled tribal members, and I cannot recall in my lifetime a presidential candidate visiting our reservation and campaigning directly to our people.