nerd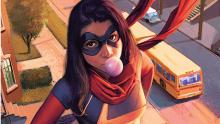 In 'Ms. Marvel,' a Muslim teenage girl is the hero we've been waiting for. 
I have a number of identifiers on my various venues I write for and on my email signature: heretic, antagonist, father, son, instigator, pop culture junkie, theologian, social media guru, and so on. But one seems to resonate with folks more than any other: GOD NERD.
For some it's just a funny juxtaposition of words. For others, there is something deeply relate-able in the moniker. Incidentally, the simple fact that I use words like "moniker" make clear the fact that I and a card-carrying, credentialed nerd.
Nerd-dom covers vast swaths of territory, from Trekkies and Settlers of Catan enthusiasts to, apparently, at least a few followers of Christ.