NEA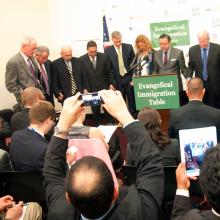 Church leaders today gathered in Washington, D.C., to announce the launch of the Evangelical Immigration Table – a broad coalition of organizations, churches and pastors from across the political and religious spectrum coming together to advance a cohesive immigration reform message.
The Immigration Table was launched at a press conference, with speakers including Sojourners CEO Jim Wallis, Dr. Richard Land, President of the Ethics and Religious Liberty Commission, Gabriel Salguero, President of the National Association of Latino Evangelicals and Tom Minnery of Focus on the Family, setting out a common set of principles reflecting the common ground that all members of the Table have found on the issue of immigration.
Read on to view photos from the press conference.