Navy yard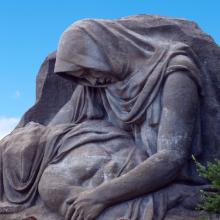 Twenty-first century readers of the Scriptures are likely uncomfortable with the book of Lamentations and its stories of weeping, groaning, and grieving. But, the act of lamenting is not unique to biblical Israelites.
Today's world is full of lament-worthy situations. One need only turn on the nightly news to hear countless stories from places like Detroit, Michigan, and Camden, N.J. – plagued by record foreclosures, abandoned buildings, corrupt government officials, and boarded up businesses – to understand the devastating impact of high unemployment, increased crime, and precarious civic finances that have taken a toll on communities. Further, the country's working poor earn wages that are so meager they have a hard time providing basic necessities for their families. Many cannot make ends meet without help from public assistance programs, which ultimately leads to feelings of despair and a decreased sense of self-worth
.
Modern readers also lament over the following.
What people here are wondering today is what in the world went wrong with Aaron Alexis?
The man who shot and killed 12 people had his problems. But friends who worked and lived beside Alexis say they don't recognize the man who went on a shooting rampage Monday at a military complex in Washington, D.C., and eventually was shot dead in a gunfight.
Alexis' life ended in Washington, where he lived in a Residence Inn in the southwest part of the city and worked as civilian contractor for the military. But much of his story is centered in Fort Worth, where he seemed to be an easygoing guy who practiced Buddhism, meditated for hours and hung out with friends who spoke Thai, as he did.