name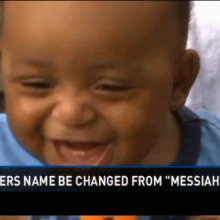 A Tennessee judge should not have barred a couple from naming their child "Messiah," said the executive director of the American Civil Liberties Union of Tennessee.
On Thursday, the parents of the child appeared in Cocke County Chancery Court in Tennessee because they could not agree on a last name.
Child Support Magistrate Lu Ann Ballew ordered the mother, Jaleesa Martin, to change her son's name to "Martin DeShawn McCullough." It includes both parents' last names but leaves out "Messiah."
"The word Messiah is a title and it's a title that has only been earned by one person and that one person is Jesus Christ," Ballew told the 7-month-old's parents.