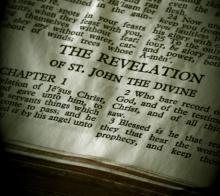 It was the summer of 1994 and about 10 friends and I sat huddled around Bibles in my friend's living room. It was a "scripture party." The lights were dim and the air was full of anticipation and mystery. We did not know what God might reveal as we opened the book of Revelation and read it out loud, in community, in one night. 
This bears resemblance to the way the early church would have read the scripture. They were an oral culture, not a written one. The Hebrew Bible was written on scrolls that were read aloud to congregations. Most of the New Testament was written as letters to the worshiping bodies of whole cities (i.e. the saints in Ephesus, the church in Philippi, the body in Corinth, etc.). When received, the letters would be read out loud to the whole church community and received as God's instruction revealed through the apostles for the edification of their communities.
Imagine being one of the very first followers of the Jesus "Way" (Acts 9:2). 
Imagine being a persecuted religious group. You have to use code — the sign of the ichthys — to identify yourself to other believers for fear of religious persecution. Only when you are gathered together in secret can you speak openly about your faith. Only then can you be fully known and appreciated for the whole image of God that lives inside of you.
Imagine huddling in a secret meeting place and reading the Apostle John's Revelation of Jesus Christ for your nascent faith community in Ephesus or Smyrna, or Pergamum, or Thyatira, or Sardis, or Philadelphia, or Laodicea (Revelation 2-3). Imagine living in Ephesus and reading Paul's prayer for your church to understand its hope and inheritance (Ephesians 1:17-2:22). 
And imagine being rich in the early church and hearing James' letter warning: "Listen! The wages of the laborers who mowed your field, which you kept back by fraud, cry out, and the cries of the harvesters have reached the ears of the Lord of hosts."
Imagine hearing it all for the first time. It all feels so real. The call to holiness feels so urgent because God feels so present.