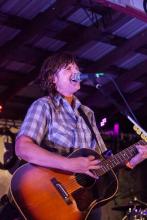 Amy Ray's smile opened itself to wrap love around the couple thousand fans who'd weathered a soggy soaker of a spiritual festival to wait for their 10 p.m. Saturday set. "Y'all have advanced way past kum-bah-yah," she quipped. "That was a deep album cut."
For 90 minutes, Ray and her musical partner Emily Saliers couldn't stop praising the Wild Goose Festival crowd. It's as if they'd trekked to the misty mountains of western North Carolina just to see us render their greatest hits the new hymnal for progressive and inclusive Christianity. The stellar setlist covered all the ground, a collection of tracks both new and old spanning a career that jump-started itself in the same 1980s Georgia music scene that gave us the likes R.E.M. and Widespread Panic. 
The Indigo Girls catalog knits itself into our daily lives in such a way to make them the perfect band for a campfire singalong at a radicals' revival like this. But what else was obvious here could not be pinpointed in the mere practice of song. The best-selling grassroots folk duo found something in our makeshift festival that's been true of their career — past all the great lyrics and legacy of activism, past the DIY-ethics and indie entrepreneurs' edge, past all the albums and compilations, past all the accolades — exists the chewy center of hope. We see the Holy Spirit at work in such a down-to-earth humbling and fiery fashion. The Indigo Girls headline set at Wild Goose 2013 healed the audience and sealed the festival's cultural location in a jubilant justice movement for ecumenical and evangelical convergence on the funky fringes of mainstream Christianity.