movement leader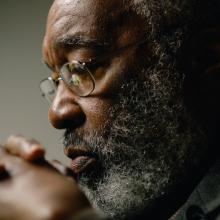 Vincent Harding died on Monday. One of my most important and dearest mentors is gone; there are countless other people across America — indeed, around the world — who are feeling the same as me.
But he really hasn't gone; his memory and presence will continue on with us in a "cloud of witnesses," which is the most important thing Vincent ever taught me.
At the Illiff School of Theology in Denver — the last place he worked and taught — Vincent's title was "Professor of Religion and Social Transformation." That was apt for someone who spent his life teaching and showing how faith was meant to transform the world, beginning with our own lives.
The first time I met Vincent Harding was at a talk he gave at Eastern Mennonite University titled something like "The People Around Martin Luther King Jr." We expected to hear about all the famous civil right leaders from the movement. Instead, he spoke of those who had gone before, often many years before King, who had shaped, inspired, and sustained him like a family tree, a community of faith, or "a cloud of witnesses."