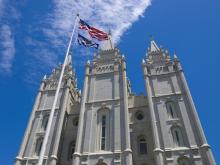 Stephen Mansfield, an evangelical author who has written widely about the faith of politicians, turns his attention to Mormons in his latest book, The Mormonizing of America.
He talked with Religion News Service about how the Church of Jesus Christ of Latter-day Saints — including GOP presidential candidate Mitt Romney — has progressed from persecution to prominence.
The interview has been edited for length and clarity.
Q: You've written "The Faith of George W. Bush" and The Faith of Barack Obama. Why did you write "The Mormonizing of America" instead of "The Faith of Mitt Romney"?
A: I thought that the story of Bush at the time was bigger than the story of evangelicals and the religious right at that time. I thought the story of Obama personally was bigger then the story of the religious left that he was sort of the champion of. But in this case I think that the story of the Mormon moment or this Mormon ascent is a bigger story than Mitt Romney. There's something broader going on and he's not so much the champion of the movement, maybe just at the vanguard of it....