moneychangers in the temple
Editor's Note: Christian Piatt was invited to preach at Portland First Christian Church on March 8. The biblical text was from Mark 11:15-19, in which Jesus cleanses the temple by driving out the moneychangers during passover from Herod's temple. This is an adapted version of his remarks.
When I was a teenager, I wanted to be a rock star. I don't have a way to project a picture of how I looked back in those days, but I'm sure if you ask, Amy would be more than happy to show one to you. She gets a good laugh about me with my blond hair, all the way down to the small of my back, my silk shirts and my little round John Lennon sunglasses.
Yeah, it may sound ridiculous now, but back then, I was kind of awesome. At least in my own mind, I was.
From the fifth grade on, I played the drums, at least until I figured out that girls didn't pay a lot of attention to the drummer. So my sophomore year in high school I switched to singing and playing guitar. I was in different bands through college, worked for a few record companies, and had fun.
A LOT of fun.
But I was also kind of a mess. Rock star living is hard living, it turns out, even if you're not actually famous. And being in bands is great, until you're out of college and still working as a waiter at TGI Fridays so you can play gigs at night. In other words, I was going nowhere.
But more important, I wasn't as happy as I thought I'd be. I mean I had fun, enjoyed myself most of the time, but I wasn't actually happy.
I kind of put my musician days on a shelf until I met Amy, and she convinced me — not exactly kicking and screaming, but close — to go visit her church in Denver. I said I'd go once if she promised never to ask me again. She agreed, so I went. And it wasn't as awful as I had expected. People were nice. They were good to each other. They were real, not just what they were told "Christians" were supposed to be. Plus they went out for beer afterward and I thought Amy was pretty hot, so I went back.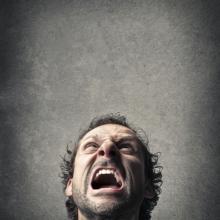 Wrath is the only one of the Seven Deadly Sins we attribute to God. And, as pastor Bob, my confirmation teacher in 8th grade would be glad to know I remember, the definition of sin according to the catechism of the Evangelical Covenant Church and similar to most Christian traditions is that sin is "all in thought word or deed that is contrary to the will of God."
This definitional conundrum raises a few questions. Is it wrong to speak of God's wrath? Wrong to list wrath among the Deadly Sins? Or are there certain things that are only sins if humans do them but are appropriate to the Divine?
I would argue that yes, wrath can be sinful, but it is not necessarily so. And that during this Lenten season the challenge is not always to suppress wrath but expressing a wrath that is in fact the appropriate response to injustice we see around us every day. In fact, a misguided attempt to avoid wrath can lead to a sin of omission in the failure to practice the "Cardinal Virtue" of justice.