modern vampires of the city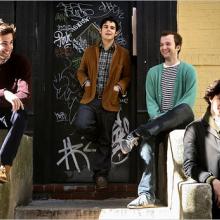 Vampire Weekend are a little like a college-educated version of the rich young ruler in Mark 10. I say a little because, despite the fact that they have gotten flack for being "privileged, boat shoe and cardigan loving Ivy League graduates," the New York-based foursome actually probably aren't as wealthy as skeptics think, and the late 20-somethings probably haven't been as straight edged as the rich young ruler. I mean, they're rock stars. And even though they went to Columbia University, rock stars aren't widely renowned for their moral rigidity.
But on Vampire Weekend's third album, Modern Vampires of the City, which was released last month to critical acclaim and commercial success, we find lead singer Ezra Koenig asking honest questions of God, much like the young ruler.
On this album, the third in what Koenig sees as a trilogy, Vampire Weekend manage to mature their poppy, eclectic sound, drawing from all sorts of genres and international songs — as they normally do — but also exploring deep questions of morality, love, faith, and belief in complex ways.