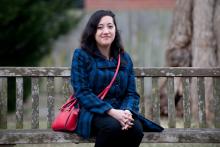 Nadia Bulkin, 27, the daughter of a Muslim father and a Christian mother, spends "zero time" thinking about God.
And she finds that among her friends — both guys and gals — many are just as spiritually disconnected.
Surveys have long shown women lead more active lives of faith than men, and that millennials are less interested than earlier generations. One in three now claim no religious identity.
What may be new is that more women, generation by generation, are moving in the direction of men — away from faith, religious commitment, even away from vaguely spiritual views like "a deep sense of wonder about the universe," according to some surveys.
Michaela Bruzzese, 46, is a Mass-every-week Catholic, just like her mother, but she sees few of her Gen X peers in the pews.