Michelle Williams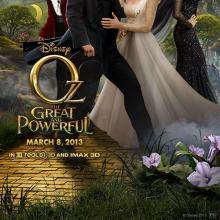 Like the masses, we flocked this past weekend to the megaplex for the opening of another would-be blockbuster, pleased to discover that the much-heralded and sometimes-maligned Oz prequel is even more good and wonderful than it is great and powerful.
Acting, plot, intrigue, color, mystery, and special effects: all these measure-up under the fantastic mastery of director Sam Raimi. But beyond the eye-candy, sensitive audience members might be as mesmerized by the movie's deeper myth and redemptive meaning as by its cinematic technique.
Of course, if we remember the original movie and its myth, the wizard has issues, for there's a man behind the curtain who is much more about a confession of subdued humility than a profession of supernatural agility. The prequel takes us back before the main myth — to see the man inside the man behind the myth.
Somewhere in the magical middle of this movie, the not-yet-wizard Oscar Diggs (James Franco) makes his confession: "I'm not the wizard you were expecting, but I may be the wizard you need." We can apply this maxim everywhere. This truth uncovers the human simplicity of the Oz legend and its relevance to all our longings in realms related to power and spirit.