Mayor Michael Nutter
Mayor Michael Nutter announced the news Nov. 17, after the Vatican officially confirmed what has been rumored for months — that Pope Francis will visit the city in September 2015 for the eighth World Meeting of Families.
Nutter said the visit here was part of what is anticipated to be a three-city trip to the U.S. The pope is expected to visit New York City and Washington, D.C. He has been invited to address both the U.N. and the U.S. Congress, though official acceptance of those invitations has not yet been made, said Bishop John J. McIntyre, auxiliary bishop of Philadelphia, who represented Archbishop Charles J. Chaput, who was in Rome.
Donna Crilley Farrell, executive director of the global Catholic conference on family life, said the pope's final schedule is still being worked out, but the pontiff will be present at a Sept. 26 Festival of Families — a three-hour program of song, dance, prayer, and testimony, which will take place at the steps of the iconic Philadelphia Museum of Art. The next day, Sept. 27, the pope will celebrate Mass in the same place.
An estimated 1.5 million people are expected for the festival — the culmination of the Sept. 22–27 World Meeting of Families. More than 2 million are expected for the Mass.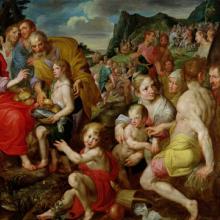 In the Bible, Jesus even goes so far as to say that when we feed the poor, the "least of these," we are feeding Christ himself. When Jesus speaks of the final judgment he says we will be asked by God, "When I was hungry did you feed me?" Can you imagine if our response was, "Sorry God, the city would not give us a permit?"

One of the stories of the Gospel involves Jesus doing a miracle where he takes a few fish and loaves and multiplies them, feeding hundreds of hungry folks. Jesus didn't have a health permit to do that outdoor feeding. In fact if Jesus had tried to perform that miracle feeding in Philadelphia under these proposed laws, he would have gotten into serious trouble. As Jesus bids us come and follow – feed the poor, care for the hungry — we are not willing to allow unjust policies to be obstacles to love.