matthew harrison
ST. LOUIS — A decision by the leader of the Lutheran Church-Missouri Synod to censure a pastor for participating in a prayer service for victims of the Sandy Hook school massacre has reopened old wounds for an often politically divided denomination.
The Rev. Matthew Harrison asked the Rev. Rob Morris, pastor of Christ the King Lutheran Church in Newtown, Conn., to apologize for participating in a public interfaith vigil with President Obama two days after a gunman killed 20 children and six adults at the town's elementary school.
Morris apologized and Harrison accepted, but the exchange sparked a media firestorm with charges that the 2.4 million-member denomination was intolerant, insensitive or both. On Sunday, Harrison said he made a bad situation even worse.
"As president of The Lutheran Church — Missouri Synod, I take responsibility for this debacle," he said. "I handled it poorly, multiplying the challenges. I increased the pain of a hurting community."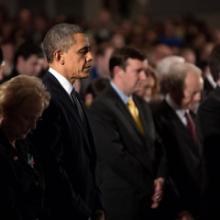 The president of the Lutheran Church–Missouri Synod apologized for his role in the "debacle" that led him to publicly reprimand a pastor in Newtown, Conn., for praying at an interfaith service following the mass shooting at Sandy Hook Elementary School.
In the initial incident, the denomination's president, Matthew C. Harrison, requested an apology from the Rev. Rob Morris of Newtown's Christ the King Lutheran Church for participating in an interfaith prayer vigil that followed the Dec. 14 shootings. Morris' role in the vigil broke denominational rules against joint worship with other religions.
Morris complied and apologized — not for his participation, but for offending members of the St. Louis-based denomination. But the president's request sparked a blaze of criticism — from within the denomination and outside it. Critics charged he was intolerant and insensitive to the town's grieving residents.
"In retrospect, I look back and see that I could've done things differently," Harrison said in a video posted on the denomination's blog Sunday. "My deepest desire was to bring unity, or at least to avoid greater division in the Synod over this issue."