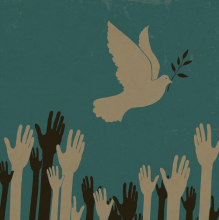 Here are the politics of the Iran nuclear deal: Congress returns next week from its summer recess, and among the first orders of business will be taking up the Joint Comprehensive Plan of Action on Iran's nuclear program, recently negotiated with Iran in Vienna by the five permanent members of the United Nations Security Council plus Germany.
Opponents of the agreement had hoped to use the August break to sway undecided members of Congress. It didn't happen. Instead, yesterday, Sen. Barbara Mikulski of Maryland became the 34th senator to publicly support the accord— meaning there are enough votes to sustain a presidential veto of any bill intended to kill it.
Now, here is a faith perspective: For Christians, this is a victory for peace and diplomacy over another bloody and destructive war. It is a time when common sense wins over bombast — when reality wins over rhetoric.