Martin Richard
I woke up this morning, like everyone else, to the news of a shootout with one suspect in the Boston Marathon bombing and the ongoing manhunt for a second brother. Like many others, I've heard lots of misinformation over the past few days about whether officials did or didn't have a suspect, whether they did or didn't have them in custody, and so on.
"I heard someone dropped a bomb on Boston," said Mattias, my 9-year-old son, over breakfast while I scrolled through the breaking news reports.
"Not exactly," I said. "It was two guys. Two brothers who came from [another country] to go to college at MIT." They put homemade bombs in and around trashcans by the finish line of the marathon."
"Why?" he asked.
"I really don't know."
"Maybe they were angry about something, and they didn't know how to talk about their feelings."
"Maybe so," I nodded.
"Did they hurt people?"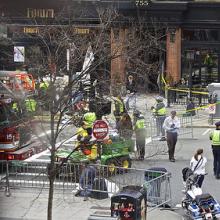 Resurrection is the theme of the 50 days of Eastertide. Yet, for decades, the month of April has been filled with particularly horrific deaths:
In 2013, April continues its trend. On Monday, April 15, someone decided to plant bombs along the route of the Boston Marathon. The explosions killed at least three people and wounded more than 100. Among the dead is 8-year-old Martin Richard.