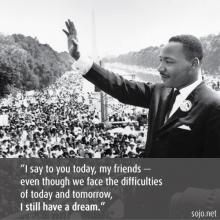 Yesterday was the 50th anniversary of a day that changed America, changed the world, and changed my life forever. I was fourteen years old on Aug. 28, 1963, in my very white neighborhood, school, church, and world. But I was watching. The Rev. Dr. Martin Luther King, Jr., became a founding father of this nation on that day, so clearly articulating how this union could become more perfect.
He didn't say, "I have a complaint." Instead, he proclaimed (and a proclamation it was in the prophetic biblical tradition), "I have a dream." There was much to complain about for black Americans, and there is much to complain about today for many in this nation. But King taught us that day our complaints or critiques, or even our dissent will never be the foundation of social movements that change the world — but dreams always will. Just saying what is wrong will never be enough the change the world. You have to lift up a vision of what is right.
The dream was more than the Civil Rights Act and the Voting Rights Act, which both followed in the years after the history-changing 1963 March on Washington for Jobs and Freedom. It finally was about King's vision for "the beloved community," drawn right from the heart of his Christian faith and a spiritual foundation for the ancient idea of the common good, which we today need so deeply to restore.