Manger Square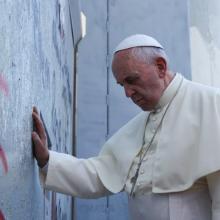 Recently I had the privilege of attending the Mass led by Pope Francis in Bethlehem's Manger Square. I am not a Catholic – but like many who are not, I have been inspired and touched by Pope Francis. I do not know what is it exactly that draws me to him! Is it his humility? His compassion for the poor? His social justice concern? His true ecumenical spirit ? Maybe all of the above!
Back to Manger Square. It was truly a special day. There were Palestinian Christians from all over Palestine and Israel. There was a sense of euphoria in the air. I have never seen Bethlehem like this before. I have never in my life witnessed Palestinian Christians with so much joy and jubilation. People were excited. Nuns were dancing in the streets. There were hymns, flags, smiles. For few hours we forgot we were occupied.
However, the most iconic moment during the Pope's visit to Bethlehem did not take place in the Manger Square, nor the Nativity Church. It took place next to the Separation Wall.
BETHLEHEM, West Bank — Two weeks before Christmas, one of the most powerful storms to hit the Middle East in a century dumped several inches of snow on the hills of Bethlehem.
In addition to shuttering schools and businesses, the storm caused runoff to trickle down the walls of the Church of the Nativity, built above the traditional birthplace of Jesus.
Fortunately, the water damage was relatively minor, church officials say, thanks to a rare cooperative venture already underway to repair the basilica's roof, leaky windows and old wooden beams, some 1,500 years old.
"There were still leaks, but thanks to the scaffolding that was erected for the restoration work, the damage was controlled," said the Rev. Pierbattista Pizzaballa, custodian of the Holy Land for the Roman Catholic Church.
In what some are calling the biggest miracle in Bethlehem since the birth of Jesus, the three churches that share responsibility for the Nativity church put aside centuries of tense relations this past year to ensure the job gets done.