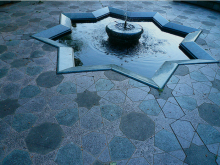 As Pope Francis' motorcade made its way from the Joint Base Andrews in Maryland to the Apostolic Nunciature in Washington, D.C., late Tuesday afternoon, it made a hard left from scenic Rock Creek Parkway onto Massachusetts Avenue, wending its way northwestward at a fast clip along the manicured thoroughfare known as Embassy Row.
Riding in the passenger-side back seat of his tiny, black Fiat 500L, the 78-year-old pontiff leaned his body toward the open window, stuck his arm out, turned his smiling face toward the street, and waived at the modest clutches of pedestrians law enforcement had allowed to stand along the sidewalk to greet him as he whizzed by.
The pope rode past the South African embassy with its statue of Nelson Mandela, right arm raised in a fist of solidarity, out front — and then, almost directly across the street, the hulking statue of former British Prime Minister Winston Churchill raising two fingers in a peace sign (or to hail a cab) at the southernmost end of the British Embassy's sprawling grounds.
The Mandela and Churchill statues almost high-five each other across Massachusetts Avenue while the pope's humble hatchback, surrounded by massive Secret Service SUVs and swarms of police motorcycles, passed beneath their outstretched arms.
I wonder if Francis noticed the statues, and thought of the men — so different from one another, but each remembered as a hero — and wondered what his own place in history might be.