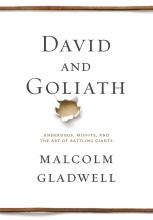 What if what you thought were advantages were actually disadvantages? And what you thought were disadvantages ended up being what actually makes people successful?
So embarks best-selling author Malcolm Gladwell of Blink, The Tipping Point, Outliers, and What the Dog Saw in his new book: David and Goliath. In the same clear, concise style that made his other books so intriguing, Gladwell challenges yet another widespread assumption — that being the underdog tends to make one an underdog forever.
Instead he argues that being the underdog can give one the upper hand. In his signature approach, Gladwell supports his hypothesis with a series of narratives, from the classic case of David and Goliath to the forgiveness one Canadian Mennonite woman was able to work towards after her daughter was murdered. Like his previous books, David and Goliath is both entertaining and thought provoking and obliges readers reflect over their lives and reconsider personal "disadvantages" that actually required them to learn skills they otherwise might not have had.