Lord's Resistance Army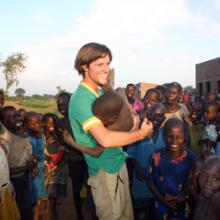 A campaign to arrest an African warlord generated awareness in more ways than the effort's co-founder Jason Russell could have ever imagined.
The "Kony 2012″ campaign captured widespread attention for its push to arrest Joseph Kony, head of the Lord's Resistance Army, which abducts and forces children to become soldiers. For a grass-roots video project that suddenly went viral, it was a phenomenal success.
Two weeks after the group Invisible Children released the video last year, Russell, the group's co-founder, was detained and hospitalized for erratic behavior after he was found running naked and cursing the devil in the streets of San Diego.
Angélique Namaika, a Roman Catholic nun, rides a bicycle on the rutted roads of the Democratic Republic of Congo's northeastern province of Orientale, which is plagued by rebel violence.
On these same roads, the Lord's Resistance Army, a Christian rebel group led by Joseph Kony, a self-proclaimed prophet of God, has been killing, abducting, and mutilating women and children.
But none of that has deterred Sister Namaika from helping displaced women learn trades, start small businesses, and go to school.