local food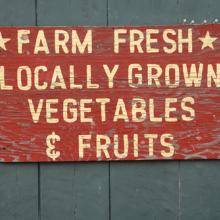 As a nutrition student in college, I paid attention to the food we would eat on campus and became keenly aware of how much plastic and material was used and disposed of because of the way our food was packaged. It upset me to see so much packaging thrown in the trash every day. I raised concerns with the Dining Services committee and became a staunch advocate for a better recycling program on campus.
That was my first foray into understanding the relationship between the food system and environmental concerns and their consequent impact on health – something that became a much larger part of my life upon graduation, when I read the book The Omnivore's Dilemma by Michael Pollan and joined a network of dietitians focused on Hunger & Environmental Nutrition.
The more I read and learned, the more I came to understand the sobering facts about the impacts that our industrial food system has on our society. Power in agriculture has become more and more concentrated over the past several decades, leading to many "monocrops" – large swaths of land devoted to growing only one type of crop rather than a diversity of crops that keeps fields vibrant and healthy. We've seen unprecedented extinction of species as a result. Artificial fertilizers lead to soil runoff, nitrous oxide emissions, and pesticides polluting our waterways.