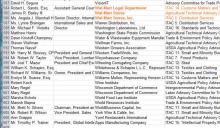 It's a honking long list of insiders — 605 names long, give or take a few duplicates. What do all of them, mostly from corporate America, know about the secret playbook U.S. trade officials are using next week in San Diego to negotiate a potentially huge international agreement?

Five U.S. senators and 132 members of the House of Representatives wish they knew. They've been asking U.S. Trade Representative Ron Kirk, the official in charge of such negotiations, to pretty-please let all members of Congress see the working text, or at least chapter summaries, of the deceptively benign-sounding Trans-Pacific Partnership, now in the works. 
So far, Kirk has said no. (In his defense, last month House Oversight Committee Chairman Darrell Issa, R-Calif., leaked a draft of the "intellectual property" chapter of TPP, just because it's a "secretive agreement" that could "undermine individual privacy rights and stifle innovation." Leaking, whistleblowing--potato, potahto).